Iran Adds 9 US Entities to Its Sanctions List in Retaliation for New US Embargoes
By: Tasnim News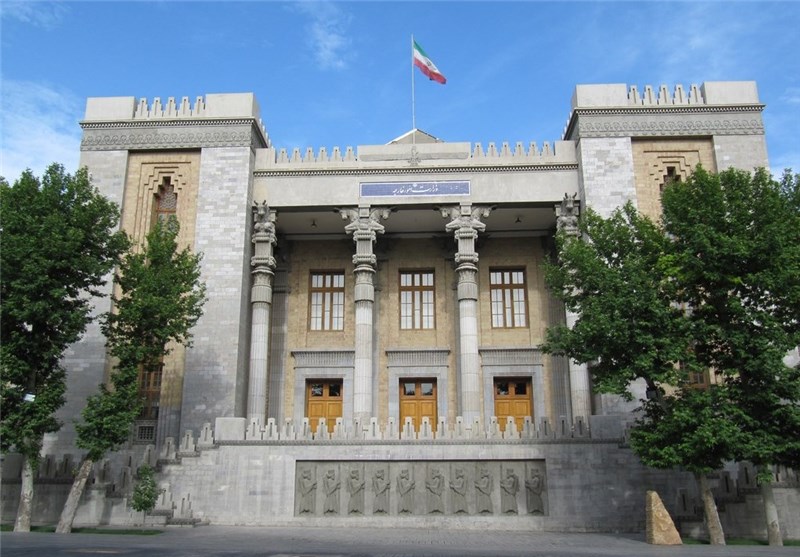 TEHRAN (Tasnim) – Iran's Foreign Ministry said it has added nine American individuals and companies to its list of sanctions for sponsoring terrorism or action against Iran's national security as a retaliatory measure against the new US embargoes on the Islamic Republic for its missile program.
In a statement on Thursday, Iran's Foreign Ministry slammed the US Treasury Department's move to announce new sanctions on Iran as an attempt to "downplay the positive outcomes" of the Washington government's measure to continue to waive anti-Iran sanctions as required by the Joint Comprehensive Plan of Action (JCPOA), a nuclear agreement between Tehran and the Group 5+1 (Russia, China, the US, Britain, France and Germany).
In dual actions on Wednesday, the US administration extended wide sanctions relief for Iran under the JCPOA, but also imposed penalties on Iranian and Chinese figures for what it called supports for Tehran's ballistic missile program.
"The Islamic Republic of Iran condemns the US government's bad will (and) attempts to reduce the positive impacts of carrying out its (US) JCPOA-required commitments by adding legal and natural personalities to its (US) list of foreign, unilateral and illegal sanctions, and considers that as unacceptable and in breach of the international law," the statement added.
The Foreign Ministry also reiterated that Iran's inalienable right to boost its defense capabilities for protecting its sovereignty and territorial integrity or to press ahead with its missile program have nothing to do with its international commitments and with the UN Resolution 2231.
Resolution 2231, passed by the 15-memebr United Nations Security Council in July 2015, has endorsed the 159-page JCPOA. The resolution calls upon Iran "not to undertake any activity related to ballistic missiles designed to be capable of delivering nuclear weapons."
Iran maintains that none of its missiles have been designed to be capable of carrying nuclear warheads, because nuclear weapons have basically no place in the Islamic Republic's defense doctrine.
Elsewhere in the statement, the Iranian Foreign Ministry said it came up with a plan to retaliate the new US sanctions by adding nine American individuals and companies to the list of the "legal and natural individuals under Iran sanctions."
According to the statement, the nine entities "have a proven record of brazen violation of human rights and international humanitarian law by engagement or direct and indirect aid and abet in the Zionist regime's anti-human crimes in the occupied Palestine or in that regime's terrorist measures, of involvement or aid and abet in sponsoring Takfiri terrorism and suppression of people of the (Middle East) region, or of effective engagement in measures against the Islamic Republic of Iran's national security."
The US Treasury Department announced in its Wednesday statement that Washington has sanctioned two Iranian defense officials, an Iranian company and members of a China-based network for the so-called supports for Iran's ballistic missile program.
WRB wants your feedback on this important article. This is YOUR world. Stand-up and be counted. It is time!
Share to Social Media
WRB is your Daily Worldwide News Source. Help Us Grow!
Disclaimer: The contents of this article are of sole responsibility of the author(s). Watching Rome Bum will not be responsible for any inaccurate or incorrect statement in this article. Watching Rome Burn grants permission to cross-post original Watching Rome Bum articles on community internet sites as long as the text & title are not modified. The source and the author's copyright must be displayed. For publication of Watching Rome Bum articles in print or other forms including commercial internet sites, contact: Editor-WRB@protonmail.com.
www.watchingromeburn.com contains copyrighted material the use of which has not always been specifically authorized by the copyright owner. We are making such material available to our readers under the provisions of 'fair use' in an effort to advance a better understanding of political, economic and social issues. The material on this site is distributed without profit to those who have expressed a prior interest in receiving it for research and educational purposes. If you wish to use copyrighted material for purposes other than 'fair use' you must request permission from the copyright owner.
© Copyright Watching Rome Burn 2017
For media inquiries: Editor-WRB@protonmail.com